RapidShare is one of most widely used popular online file sharing hosting millions of files for downloading, uploaded by users around the world. Most of the user uses free rapidshare account which has various limitations like low bandwidth, upload limit etc.
Over a period rapidshare has lost its reputation because of this limitation on free account. But still the number of files uploaded on Rapidshare is more then any other online file sharing website. One issue which users faces while downloading files from rapidshare is wait time and there is no automated program for downloading set of rapidshare files.
Here is a cool application Rapidshare Plus, which lets you to download queue of rapidshare files automatically by just providing rapidshare links. You just need to add download file Rapidshare links to Rapidshare Plus and rest of the downloading task will be done by Rapidshare Plus.
Rapidshare Plus is sort of Rapidshare Download manager for Free Account Users.
Features of Automatic Rapidshare File downloader Rapidshare plus
1) You can Add/Delete any number of Download File Links
2) You can Add Proxy server setting
3) Start or Stop Download Process (No Resume Option yet available)
4) Displays file download progress and over progress bar
5) Time Remaining and Time elapsed
6) Current Download Speed
Screenshot of Rapidshare File Downloader Rapidshare Plus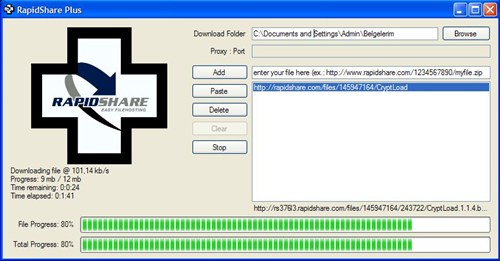 Download Freeware RapidShare Download Manager Rapidshare Plus.